Find your freedom
from
fears
EFT
Emotional Freedom Technique uses gentle tapping of several acupuncture points along with mindfulness to release stress and trauma from the body allowing the body-mind to return to a healthier physical and mental state.


EFT Online
Sitting in the comfort and privacy of your own home or office, you could be English-speaking and in the UK, Europe, Asia, Africa, Australasia, Americas or anywhere in the world when you have your session via Skype! Or if you are in Cheshire or Staffordshire, then my treatment room in Alsager will be a cosy sanctuary.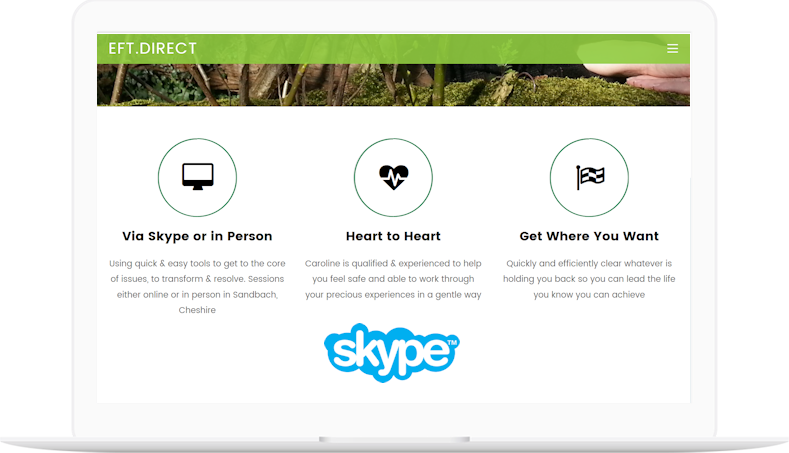 EFT and Matrix ReImprinting: direct to you worldwide online via Zoom or Skype
Anxiety
EFT has helped reduce my anxiety and made me feel more in control of my emotions when it comes to dealing with difficult situations.
Self-Doubt and Childhood Trauma
Caroline has been providing counselling to me through EFT for about 6 months now. I usually do not write testimonials but this is one of those that I would never want to avoid because of the far reaching effects it has had on my life by completely transforming it from a whirlwind of negativity to exceptional self-confidence. Prior to her, I was on a downward trajectory where I would hesitate to see any light at the end of the tunnel. I had doubts about myself and the ghosts of my childhood that had been nourishing on every bit of my energy and had completely overwhelmed me to an extent when I no more thought I could have a happy life. The self-doubt kept on getting compounded & I was even doubtful that the EFT would even make a difference. However, the way Caroline introduced me to my past in a very profound and distant way so that I can still control bits of my past & prevent them from haunting me has been one of the most exceptional things that ever happened to me. I do not let my past control me anymore but rather have got hold of all the strings that I can control in a way that I feel less guilty about events and feel that I have been rejuvenated. In a nutshell, Caroline has been the difference between make or break for me. I thank her for her dedication & exceptional ability to perform EFT and transform lives towards the path of happiness and control.
Bereavement
I have visited Caroline for several sessions of EFT. Although I initially felt sceptical and slightly nervous about the process, Caroline quickly put me at ease and explained what was going to happen. She told me I was in control at all times and she would stop if I needed her to.
I spoke to Caroline about my mum's sudden death, and how difficult I had found it to cope with. We had a short chat, and Caroline identified a way EFT could help me deal with the strong emotions I felt about this event. The tapping was easy to follow. Caroline was very supportive throughout, and asked me several times if I was okay to continue. After the EFT I felt more able to think about my mum without feeling overwhelmed with emotion.
Hair Pulling (Trichotillomania)
I don't think I would have ever done this with anyone else apart from you Caroline because having to admit to someone that you pull your own hair out is very embarrassing and painful thing to do.  I felt that I could trust you and was comfortable in being open with you.  I was told to keep an open mind, and I did, whilst at the same time never really expecting it to work.  Somehow it has worked and I don't really care about how or why.  What I care about is that I'm not causing my body further pain by perpetuating a behaviour that served no healthy purpose.  It must be 3-4 weeks now since my session and I have still only pulled out two solitary hairs on two separate occasions.  I no longer have the urge to pull hair to relieve the anxiety / discomfort of approaching migraine and my shoulder which has had years of repetitive strain injury is finally being allowed to rest.
Partner Snoring
I had complained to Caroline about my husband's snoring which had disturbed my sleep the night before, and I was surprised to hear that EFT could help. After several rounds of tapping, I felt more calm and less emotional. Although there has been no change in my husband's snoring, I was surprised that I have found it less annoying, and the quality of my sleep has improved. Caroline showed me how to use to reinforce the effects of the EFT at home if I found myself getting cross at his snoring.
Self-Care and Healthy Eating
Working with Caroline has literally transformed my life. Her personalised approach to my problems has been a life change for me.  She is an exceptionally warm, professional and caring EFT practitioner. It has an amazing knack of being able to encourage me to make dramatic changes in my life. She made me feel at ease and listened to what was really important to me, for example the session helped me completely eradicate old habits that weren't helpful for me any more. Her in-depth knowledge of the healing through EFT is incredible, and her passion for what she does really transpires through her careful listening ability. In just one session she completely changed my own perspective on eating healthily and taking care of myself.
Lymphedema
I have had primary lymphedema in my leg for ten years, it has always been something I avoided talking about and drawing attention to, that was before I had some EFT sessions with Caroline. The EFT technique helped me to take the time to think about the condition, the symptoms, the way it made me feel and most importantly how I didn't want to feel that way anymore. As a result, now two months after my last session my symptoms have decreased, barely any aching, less pins and needles and even reduced swelling! But what is more important to me is the fact I don't try to hide it anymore and I worry about it less. I cannot thank Caroline enough for bringing this technique to my attention at a time when I thought there was no hope and my life would forever be ruled by the effects of lymphedema. I would say, if your sceptical or doubting the idea of EFT – just give it a try! You never know a few sessions might change your life too!
Family Relationship
Caroline used EFT to help me deal with my difficult relationship with my sister. Caroline was non-judgemental and I felt safe telling her how I felt. EFT helped me to accept my strong feelings and to accept them. This sounds difficult, but was actually easy with several rounds of tapping and I have been surprised that the effects of the EFT are so long lasting. My relationship with my sister is still not easy but I accept that I am not going to change her and I just don't get as upset when I speak to her.
Skin Condition
I have had an itchy patch on my ankle for forty years. Although being slightly sceptical, I decided to give EFT a shot. It has been four months since my one and only session with Caroline and although it hasn't completely cleared up, the skin has been the best it has been for as long as I can remember.